Brexit remains the leading worry for SMEs as concern grows in 2019
Brexit continues to dominate the list of worries for small and medium businesses in the UK, with the number of SMEs feeling either fairly or very concerned about it rising by 8.5 percentage points (pp) to 45.3%. This is according to GlobalData's 2019 UK SME Insurance Survey, in which 23.5% of respondents were very concerned and 21.8% were fairly concerned. GlobalData Financial Services examines the trend
It was the most common concern by a margin of 6.9pp, with an event that could stop trading being ranked in second place, while cybercrime jumped to third with an increase of 4.3pp to 35.7%.
This is likely to be a consequence of more high-profile cyberattacks being in the news, with ITV News claiming the UK was hit with over 600 attacks in the year to August 2019.
The uncertainty surrounding Brexit places a lot of pressure on SMEs who may trade with Europe or rely on skilled workers from the EU. The latest delay in Brexit, to January 2020, will undoubtedly further increase concerns. Many SMEs will now be waiting at least three months for a resolution. Furthermore, many SMEs sell directly to consumers and are therefore very reliant on the overall welfare of the economy and consumer confidence, which was dropped to a six-year low in October 2019.
The rising concerns in 2019 show that the longer the current state of Brexit limbo goes on, the more worried SMEs become. However, a total of 35.9% of SME respondents said they were very or fairly unconcerned, meaning that many are coping with the uncertainty. But just under one in two SMEs in the country see Brexit as a concern, making it clear that this is the largest issue facing small and medium businesses in 2019.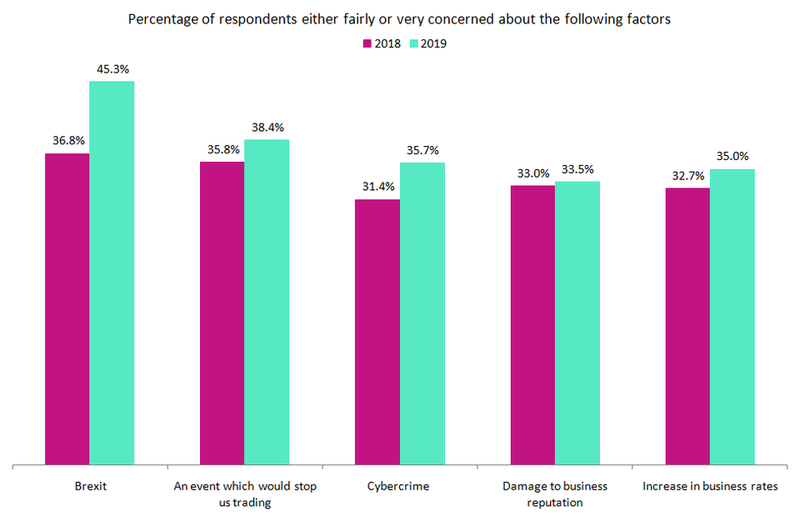 Source: GlobalData's 2019 UK SME Insurance Survey