Many SMEs were forced to reduce operations or close their businesses during COVID-19 national lockdowns and were then left fighting for business interruption insurance payouts. The High Court's judgment ruling in favour of policyholders has improved trust in insurers among SMEs.
According to GlobalData's 2021 UK SME Insurance Survey, 21.6% of UK SMEs state that their trust in insurers has increased as a result of the business interruption court cases around COVID-19. This proportion is significantly higher than the 12.6% of SMEs for which trust has either somewhat or significantly eroded. The survey reveals that 38.5% of UK SMEs have business interruption cover in place.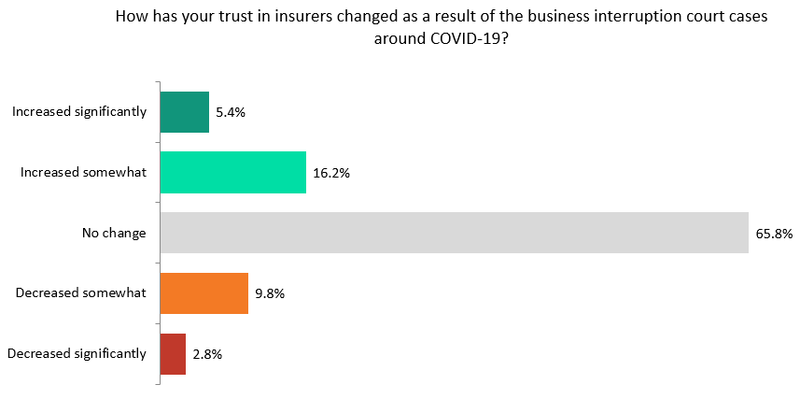 Source: GlobalData's 2021 UK SME Insurance Survey
After the first national lockdown, business interruption insurance policyholders turned to their providers to make claims on their losses, but most insurers refused liability. As the number of policyholders making unsuccessful claims increased, so did attention in the media. Insurers held on to payments on the grounds that business interruption insurance was not intended to cover for loss of income due to a pandemic. Despite SMEs struggling to get payouts on their business interruption cover, the court cases have had a more positive impact on how SMEs view insurers as opposed to being detrimental on trust.
Since the High Court's ruling in September 2020 that businesses may be entitled to compensation for the disruption to their operations due to unclear and/or ambiguous policy wording, the Financial Conduct Authority has reported that insurers have paid more than £1bn in business interruption claims. Claims from big insurance names such as Hiscox and RSA were defeated by the ruling.
Despite having to wait for months to receive payments, it seems that confidence in the legal system has improved among businesses. Going forward, policy wording will be clearer, removing ambiguity for the eventuality of future incidents.
Equally, businesses will pay more attention than in the past to what the policy actually covers, therefore better understanding any exclusions. The business interruption court cases could have been more detrimental to the insurance industry, not only seeing insurers extending COVID-19 payouts but equally having their reputations tarnished.