According to GlobalData's 2021 UK SME Insurance Survey, over half of SMEs with commercial vehicle insurance say that they either have or are thinking of getting UBI.
Although not a new product or concept within the commercial motor market, the pandemic has led to many firms using or considering UBI as a way of controlling costs more effectively, either by reducing premiums for unused vehicles or optimising the use of vehicles on the roads through data analytics. For example, this can be achieved by directly providing feedback to the driver to encourage fuel-efficient driving or by using route-optimisation tools to ensure that vehicles take the consummate routes between destinations.
The benefits of using telematics devices in commercial motor vehicles go beyond the opportunity to reduce premiums through safer driving. They offer fleet managers the chance to assess driver behaviors and monitor routes taken so that they can more efficiently control the operations of the whole fleet. Addressing these issues will, ultimately, lead to increased safety for both the fleet's drivers and other road users. This is positive to insurers, who continue to face rising claim costs as repair costs grow due to enhanced vehicle technologies.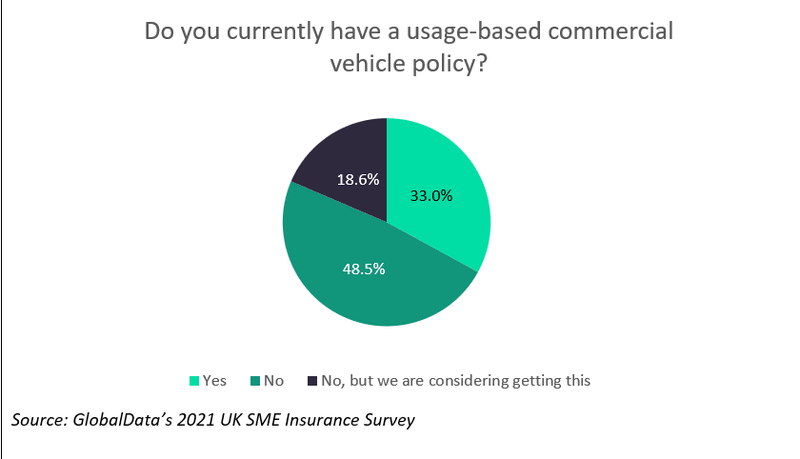 Source: GlobalData's 2021 UK SME Insurance Survey
Commercial motor insurers must ensure that they continue offering flexible products such as UBI to create more personalised or customisable policies for customers. The emergence of data-centric and client-focused insurtechs such as Zego and Flock in the commercial motor space has accelerated the uptake of telematics-based insurance policies, with most major providers, including RSA, Aviva, and Allianz, offering some form of this policy.
Unlike conventional insurance, UBI uses real-time driver data, including information from a vehicle's sensors, current weather conditions, and live traffic, to accurately assess the risk profile of each individual driver in real time. Zego claims that it can collect up to five times more data points than its competitors, around 50 per second. The insurer then utilises these statistics to provide feedback to customers on how they can reduce premiums at renewal.
By allowing customers to visualise and understand how their individual premiums are priced, UBI has created a more transparent, open, and fair insurance business model. The growing prevalence of connected vehicles within commercial fleets will continue to cultivate this product's popularity.