Life and health products will benefit most from COVID-19
The life and health insurance markets will see the most positive impact from the COVID-19 pandemic, according to a GlobalData poll. The pandemic has caused major disruption to a myriad of businesses, resulting in some insurance lines seeing huge declines in business, but some products may also benefit in the longer term.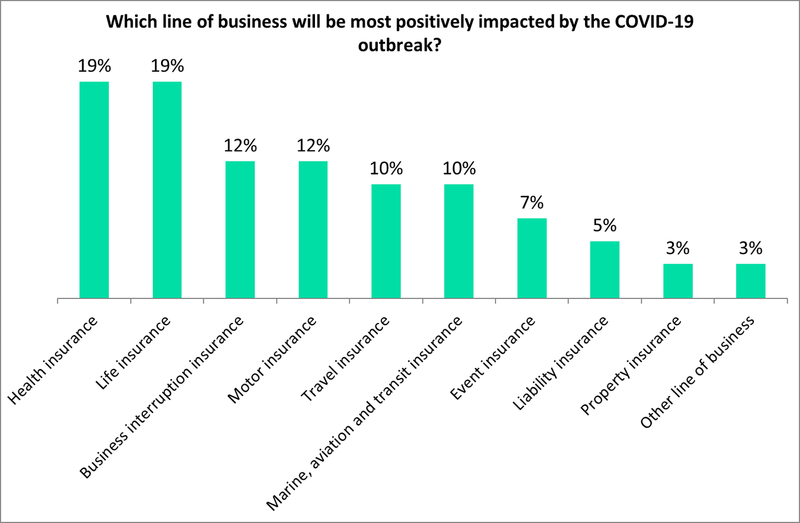 Source: Life Insurance International, GlobalData Note: Poll closed December 2020
Respondents to our poll on industry magazine Life Insurance International were clear that life and health products would see the most positive impact. Consumers and businesses are likely to feel more vulnerable to viruses and want more protection in the form of such policies.
Business interruption insurance is also seen as a business line that could be positively impacted by COVID-19. Businesses around the world would have been scarred by forced closures throughout 2020 and into 2021 were they not able to operate. It is likely that the impact to this business line will be felt over time, as business owners would be very interested in policies that include pandemic cover. This product would likely have scored even higher had there not been disputes around whether insurers should pay out on COVID-19-related claims.
Perhaps the most surprising result of this poll is travel insurance coming in fifth, with 10% of respondents thinking it will be most positively impacted. This seems to be long-term thinking, as clearly it has suffered greatly in 2020 and almost certainly will do so in 2021 as well given the continuation of travel restrictions. However, much like with business interruption, consumers may be more inclined to take out comprehensive travel insurance policies when they eventually can travel abroad again. This would mean the line will see a strong recovery once the pandemic is over.
Respondents were relatively split, with no product receiving over 19% of the vote. This speaks to the uncertainty in the industry at present. But it also shows that several leading products could see long-term benefits, despite the disruption within them now.