Exploring the "yuniverse" of life insurance
Traditionally, consumers don't want to hear from their life insurer. It usually suggests only bad news. Insurtech yulife wants frequent engagement from its customers, but how can it inspire that? Patrick Brusnahan speaks to yulife's CEO to figure out the plan
Would you check in with your life insurance every day? Have you ever been given a reason to?
Insurtech yulife has gamified health and wellbeing in an effort to get people engaged.
Working with businesses and their employees, it rewards people for their everyday behaviour. It has gone through a number of funding round is backed by giants such as Spotify.
Sammy Rubin, founder and CEO of yulife, tells Verdict InsurTech: "Insurance has always been about the heart. We really want to make a difference in people's lives, not just care for them after they die.
"We want to change the paradigm. People live long lives and we want to encourage people to live long and happy lives. We've very much focused on wellbeing, obviously protecting when you have things happen, but also inspiring people to live their best life."
"Rubin has been in the life insurance game since his 20s, founding Policy Portfolio, which was sold to Investec."
Rubin has been in the life insurance game since his 20s, founding Policy Portfolio, which was sold to Investec. Afterwards, he became the founding CEO of what would eventually turn into VitalityLife, a firm that focuses on rewarding healthy behaviour.
"I realised that there was a real opportunity within the tech sector to harness all the thousands of apps out there that measured your steps, that measured your psyche in all these wellbeing apps," explains Rubin.
"To harness technology to create a great insurance company, a new life insurance proposition, to be about wellbeing, I set out; about four years ago, to build a new type of life insurance company that would be all about inspiring people's lives."
This is what turned into yulife.
Engagement
The insurtech works with SMEs to try and bridge the "disconnect between consumers, companies, and their life insurance". Rubin understands that life insurance is "not a trusted sector, certainly not a loved one".
Members complete simple challenges, such as five minute walk or 10 minutes of meditation, to earn Yucoin. They can then progress through levels in the Yuniverse and earn rewards such as Amazon or ASOS vouchers, or air miles.
The aim is to gain engagement from 10% of the population in the UK.
"What we're finding is that 40% of our users are engaged every week. 20%, one in five users, are actually opening the app and using it every day," Rubin purports.
"On average, we get 120 touch points per year per user while many [insurers] only get one."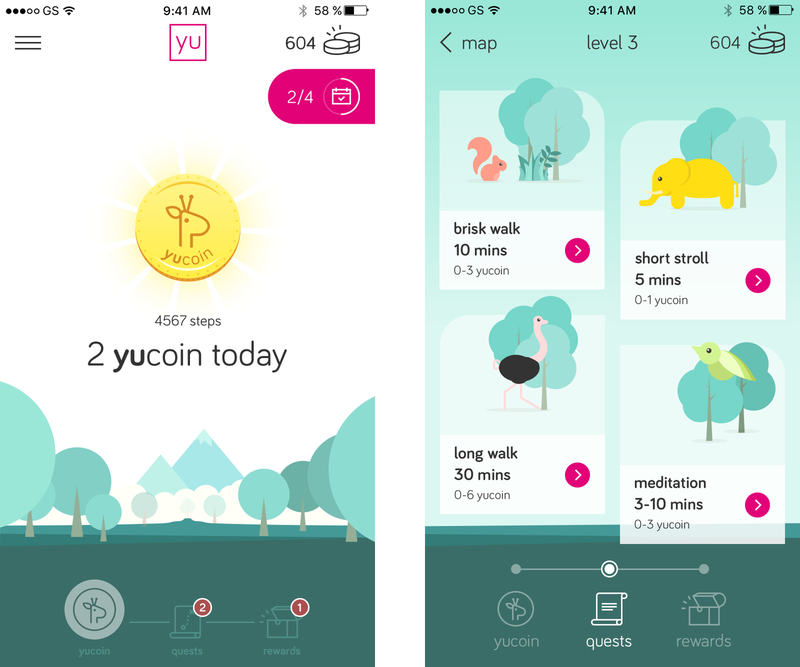 Company leaderboards have been introduced for users to increase engagement and many users have already completed the 200 levels in the app. More are on their way.
Wellbeing is a huge concern for companies and their employees and the industry is starting to look at this. However, Rubin believes there's more that can be done.
"Life insurance has been around for a couple of hundred of years. And it hasn't changed that much. And it's a huge industry," he explains.
"I think we need to, with respect for the life insurance industry that does an amazing job, we need to really apply 21st century technology."
Further plans? Rubin concludes: "Over the next year, the goal is reaching more and more companies. We feel we've got a product where the engagement's really great, we've got great reward partners, and the apps work well. Our real goal now is scale. Really it's about taking our message to as many companies as possible."